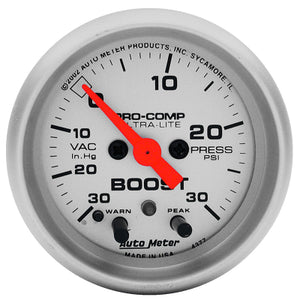 APPROXIMATE DISPATCH TIME FRAME IS BETWEEN 3 TO 10 BUSINESS DAYS.
AUTO METER ULTRA-LITE SERIES BOOST/VACUUM GAUGE
2-1/16", Full Sweep Electric, Peak Memory and Warning, 30 In Hg./15 psi
Full Sweep, Stepper Motor meter movement.

Includes 8 ft. tubing or wiring harness.

Includes MAP sensor.

Includes T-fitting.

Peak recall/memory

User Programmable Warning Function
These professional quality Ultra-Lite series gauges are of aluminium construction which greatly reduces their weight. While their silver satin gauge face with black accents and a red pointer make these gauges very easy to read.