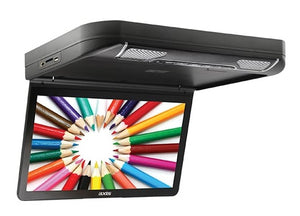 APPROXIMATE DISPATCH TIME FRAME IS BETWEEN 3 TO 10 BUSINESS DAYS.
AX1513 -13.3 INCH SLIMLINE ROOF MOUNT HD MONITOR-PLAYER SYSTEM with BUILT-IN DVD-CD PLAYER
The AX1513 is a premium, slimline HD roof mount DVD multimedia system. This package comes complete with side loading DVD player and innovative features including HDMI, USB + SD input, headphone jack & 8 Channel FM Modulator to reproduce the audio through your vehicle's sound system. Keeping all your passengers entertained on the road has never been so quick, easy and enjoyable!
SPECIFICATIONS:
GENERAL
– 13.3 Inch (33.8cm) HD LED-TFT Monitor
– 1080P Decoding
– PAL/NTSC Auto Colour System
– 1920(W) x RGB x 1080(H) RGB Resolution
– Slimline & Compact
– LED Backlight
– 16:9 Screen Format
– HDMI Input
– AV Input
– AV Output
– Multi-language OSD Menu
– IR Transmitter (2 Ch for Wireless Headphones)
– Wireless FM Modulator (8 Ch for Audio Output)
Frequencies: FM 87.7MHz FM 106.7MHz FM 88.1MHz FM 107.1MHz FM 88.5MHz FM 107.5MHz FM 88.9 MHz FM 107.9MHz
– Function Buttons on Pod
– Built-In Dome LED Lights (Auto Polarity)
– On-Board Stereo Speakers
– Universal Installation
– 12/24V DC Input / Negative Ground
– Minus 10° to +60°C Operating Temperature
– 350(W) x 300(L) x 32(H)mm Dimensions (when closed)
DVD/CD PLAYER/MULTIMEDIA
DVD/CD/MP3/MP4/WMA/MPEG2/MPEG4/MKV/H.264/AVS/VCI/RM/RMVB/AVI/VP6/VP8, etc Playback Systems
– USB 2.0 Port
– SD/MMC/MS Card Reader
– Supports 1080P
INCLUDED
– Full Function Remote Control
– Installation Hardware
– Installation Manual
https://audioxtra.com.au/wp-content/uploads/2017/05/AX1513-IM-FINAL-2017-Web.pdf