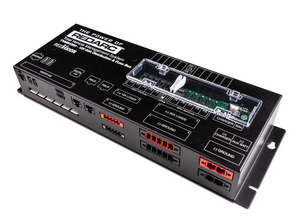 APPROXIMATE DISPATCH TIME FRAME IS BETWEEN 3 TO 10 BUSINESS DAYS.
REDARC REDVISION DISTRIBUTION BOX (TVMS1280-DBV2)
The RedVision Distribution box can be used to upgrade an existing Manager30 system to incorporate full RedVision functionality, allowing the control and monitoring of multiple on-board devices in a 4WD, caravan, camper trailer, or motorhome in one place.
This is an upgrade unit only, which requires an existing Manager 30 and Redvision display unit in order to provide all functionality.
RedVision allows you to control multiple on-board devices, such as turning lights, inverter, water pumps and other loads such as televisions, electric steps and fridges on or off. It also provides you with the ability to monitor water levels, temperatures, energy (battery power) consumption and storage, with the battery information available when used with a REDARC 'Manager' battery management system.
RedVision comes equipped with an In-vehicle mounted display and Bring Your Own Device 'BYOD' Smartphone iOS or Android app that features the control and monitoring of many functions in a 4x4, camper, caravan, or motorhome in one place.
The display and app uses a modern, user-friendly interface, by incorporating an easy to understand system layout. The robust display has been built and tested to withstand Australia's tough and varied environmental conditions, whilst the app brings together REDARC's expertise on innovation and continual investment into R & D and manufacturing quality products in Australia.
Features
Combines power protection, distribution, and control in one unit
Distribution Box accepts inputs from a range of battery management components (eg. Manager30, BCDC, SBI) and monitors all battery usage and charging information when paired with a Manager 30
Accepts inputs for monitoring water levels and temperatures
Capable of switching devices on/off like lights, TV, electric steps etc
Bluetooth connectivity to BYOD iOS and Android to the upgradeable & exclusive REDARC APP called RedVision