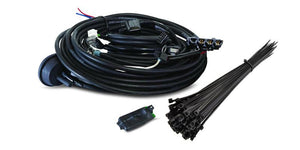 APPROXIMATE DISPATCH TIME FRAME IS BETWEEN 3 TO 10 BUSINESS DAYS.
REDARC TOW-PRO ELITE WIRING KIT TO SUIT FORD RANGER AND EVEREST (TPWKIT-012)
*NOT COMPATIBLE WITH TOW PRO ELITE 12V
REDARC TPWKIT-012 wiring kit suitable for all current model Ford Ranger and Everest vehicles.
The REDARC TPWKIT-012 Tow-Pro Wiring Kit supports the installation of both the Tow-Pro Elite and Tow-Pro Classic electric brake controllers and is directly compatible with all the current model Ford Ranger and Ford Everest, with or without AEB. This Tow-Pro wiring kit also supersedes the previous TPWKIT-001 part number.
The REDARC Tow-Pro Wiring Kit comes with the complete range of hardware required to install a Tow-Pro brake controller and contains the fused electric brake harness, bracket and fasteners. Wiring diagrams and instructions are also included.
The vehicle-specific aftermarket wiring kit ensures a quick and convenient installation.
Tow-Pro wiring kits from REDARC – everything you need to install Australia's best brake controllers.
The introduction of REDARC's Tow-Pro V3 included an upgrade to the data cable that connects the Remote Head to the Main Unit.
• V&V2 utilised a CAT5 cable with twin RJ45 connectors
• V3 utilises automotive grade 8 pin connectors
The popular REDARC TPWKIT's will for a period have both the V2 CAT5 cable and new V3 cable includeD
TPWKIT-012 Fitting Instructions