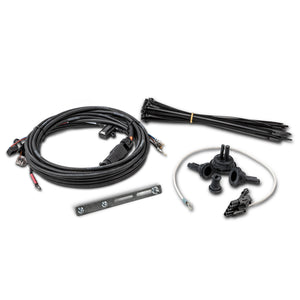 APPROXIMATE DISPATCH TIME FRAME IS BETWEEN 3 TO 10 BUSINESS DAYS.
REDARC TOW-PRO ELITE WIRING KIT TO SUIT VW AMAROK 2015 - CURRENT (TPWKIT-014)
The REDARC Universal Tow-Pro Extended Wiring Kit TPWKIT-014 supports the installation of the Tow-Pro Elite electric trailer brake controller into a wide range of vehicles. It provides all the parts and wiring flexibility to fit most vehicles.
It is suitable for vehicles where the start battery is on the other side of the vehicle from the rest of the installation via 3.7m power cable length. The only difference between this kit and Universal Tow-Pro Wiring Kit is the length of the positive power connection.
The Universal Tow-Pro Extended Wiring Kit comes with the complete range of hardware required to install a Tow-Pro Elite brake controller and contains a Wago Boot, Protection Device, Wiring Harness, Mounting Bracket and fitting instructions.
The standard 1m Remote Head cable that comes supplied in the Tow-Pro Elite (EBRH-ACCV3) will support the location of the remote head in the centre of the vehicle when the main unit is located around the glovebox area. If the preferred location for the remote head in these instances is on the driver's side, you will need to purchase and fit the 2m remote head cable.
Modern vehicles continually feature new technology, the last couple of years have seen a rise in modern driving aids such as Autonomous Emergency Braking, Adaptive Cruise Control, lane departure and collision avoidance. REDARC's range of Universal Wiring Kits is compatible with this new technology.
When you use a REDARC Universal Tow-Pro Extended Wiring Kit you ensure a high-quality and fast installation of the award-winning Tow-Pro Elite electric trailer brake controller.