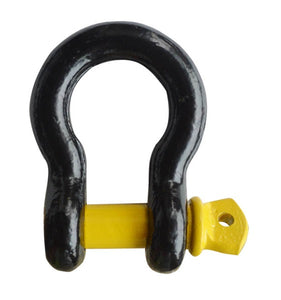 APPROXIMATE DISPATCH TIME FRAME IS BETWEEN 3 TO 10 BUSINESS DAYS.
ROADSAFE BOW SHACKLE 4750kg (SB607)
Shackles are an essential recovery item & you can never have too many of them. They are most commonly used to attach recovery straps, tree trunk protectors, winch extension straps & snatch blocks. The larger 4.7 tonne shackles are best suited to electric winch recovery situations. The most commonly used shackle is the "Bow" because its shape allows for bulky items to be easily attached. Shackles should only be used on vehicles fitted with rated points featuring closed eyelets.
TIP: To avoid seizing the screw pin, it's always a good idea to back off about 1/2-Full turn after fully hand tightening. Shackle Pins can seize due to the force exerted during recovery operations
Essential item for your recovery kit
Rated 4750kg
High Visability
Heavy Duty
Use with recovery straps, winch extension straps, snatch blocks & tree trunk protectors
Bow shape allows bulky straps to be attached easilY
*Caution : Shackles can become a lethal missile if something should break or fail during a recovery. Ensure that all spectators are well clear & all recovery lines have a dampening blanket on them. NEVER load a shackle across its width because the load will be imposed on the threads. The force must be at right angles to the pin.