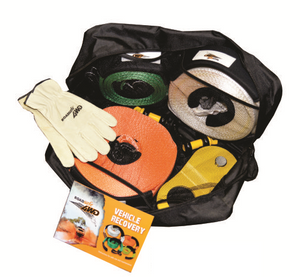 APPROXIMATE DISPATCH TIME FRAME IS BETWEEN 3 TO 10 BUSINESS DAYS.
R

OADSAFE HEAVY DUTY RECOVERY KIT - LARGE (SB611)
Roadsafe Offer a great range of Recovery straps, with each one individually designed to suit its purpose, so you can have the right strap for the right application.
The Roadsafe Recovery straps are tested to certified standards, fully stamped and tagged rated, come complete with fully sewn eyes and protective sleeves.
What's in the Kit
1x 8000kg 9m snatch strap
1x 4500kg 20m winch extension/tow strap
1x 12000kg 3m Tree trunk protector
1x 8000kg snatch block
2x HD 4750kg bow shackles
2x Leather Riggers gloves
1x HD carry bag