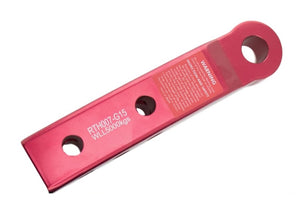 APPROXIMATE DISPATCH TIME FRAME IS BETWEEN 3 TO 10 BUSINESS DAYS.
ROADSAFE REAR TOW HITCH - EXTENDED LENGTH (RTH007) RED - ALLOY
Roadsafe offer a Heavy Duty Rear Recovery Tow Hitch featuring Twin Mounting Holes for either vertical or horizontal mounting depending on recovery angle.
Destruction tested to WLL5000kgs, and designed to suit a HEAVY DUTY tow bar with 50x50mm (AS4177.1) tow hitch (please ensure towing system is rated and designed for this application).
The Recovery Hitch itself is rated to WLL5000kgs, and is recommended for use with a 4750kgs Bow Shackle.
EXTENDED LENGTH
Roadsafe 4WD Recovery Hitch range include these EXTENDED Rear Tow Points.
Suited to vehicles with difficult to access tow hitch receiver locations.
Available in Alloy Gold these 50mm recovery hitches in aluminum with WLL 5000kgs these are designed & tested in the toughest conditions.
All Roadsafe 4WD tow point & hitch designs are destruction tested during development to ensure they are rated at a level they can withstand.
The new alloy hitch destruction testing was halted at 16 tonne due to test equipment limitations NOT these hitch limitations, with no signs of deformation within the hitch at this force.
Featuring Multi Hole for mounting the hitch either vertical or horizontal depending on your recovery needs.
Recommended for use with a 4750kg Bow Shackle (Not Included)
*Always INSPECT the Tow Points and shackles before each use. Do not use if there are visible signs of damage or wear (including cracking or elongation). Do not exceed the Working Load Limit (WLL) of the shackle or Tow Points. Always STAY A SAFE DISTANCE away from the recovery area – at least 1.5 times the length of the recovery strap. Incorrect use of recovery equipment can result in serious injury or death.
Always ensure that adequate PREPARATION for the recovery, to minimise the strain on either vehicle, has been undertaken i.e. Digging, Rock placement etc. If you do not understand how to use this equipment safely or are uncomfortable with your abilities in the use of recovery equipment, please complete a course that specialises in four wheel driving & 4WD vehicle recovery.