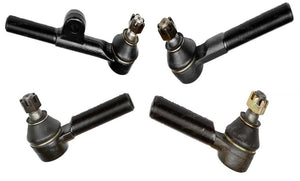 APPROXIMATE DISPATCH TIME FRAME IS BETWEEN 3 TO 10 BUSINESS DAYS.
ROADSAFE TIE ROD END TO SUIT TOYOTA LANDCRUISER 80/105 SERIES (TE2950-4KIT) 4 PCE KIT
(INCLUDES TE989HD, TE990HD, TE995HD & TE997HD)
SUITS ROD - TR4220           
THREAD 21x1.5             
LENGTH 143mm
APPLICATION - MALE
The Roadsafe Tie Rod End category is the largest segment of their extensive front end range. A tie rod end is basically a flexible coupling in the steering linkage that connects the tie rods to the steering knuckles. With over 1000 catalogued numbers, suiting thousands of known applications, the range is constantly being expanded as new requirements are identified.
Majority of Roadsafe passenger vehicle tie rod ends are encapsulated – meaning there is no need to service/grease them for their lifetime. You still need to check the boots are regular intervals to ensure there are no rips and/or tears – and replace if necessary. Roadsafe also offer a range of Greasable ends, particularly for 4WD applications, that require greasing on fitment, and re-greasing at regular service intervals to ensure the items remain adequately lubricated.
Mirror finished ball stud for smooth operation and longer wear
Majority use CR boots and have an internal top ring for better fit and contaminate exclusion
Low friction and high performance
Roadsafe offer both inner and outer tie rod ends for applications, depending upon wear issues identified. A loose or worn tie rod will cause a feathered wear pattern on tyres, and is probably the leading cause of rapid tyre wear.