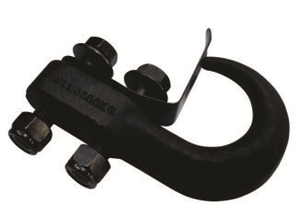 APPROXIMATE DISPATCH TIME FRAME IS BETWEEN 3 TO 10 BUSINESS DAYS.
ROADSAFE TOW HOOK 4500KG (SB609)
Roadsafe supply a generic tow hook, for use with vehicles without vehicle specific tow points.
Each tow hook is supplied with hardware to complete installation however some may require additional fittings.
For added safety the tow hook has a spring steel retaining clip, to prevent straps from falling off during a recovery.
Roadsafe tow hooks are made from 1045C hardened carbon steel, with Working Load Limits (WLL) set at 4500kgs (10,000lbs) Safety latch and hardware is included with each kit. WLL (kgs): 4500kgs
*Caution: A tow ball or vehicle tie down point is not designed as a recovery point
These points DO NOT have sufficient load ratings to handle the loads exerted during a recovery
Failure to attach recovery straps to a correctly rated recovery point may result in a failure and the strap, tow ball or other item used in the recovery may become a missile and could result in serious injury or death.
Always INSPECT the Tow Points and shackles before each use. Do not use if there are visible signs of damage or wear (including cracking or elongation). Do not exceed the Working Load Limit (WLL) of the shackle or Tow Points. Always STAY A SAFE DISTANCE away from the recovery area – at least 1.5 times the length of the recovery strap. Incorrect use of recovery equipment can result in serious injury or death.
Always ensure that adequate PREPARATION for the recovery, to minimise the strain on either vehicle, has been undertaken i.e. Digging, Rock placement etc. If you do not understand how to use this equipment safely or are uncomfortable with your abilities in the use of recovery equipment, please complete a course that specialises in four wheel driving & 4WD vehicle recovery.