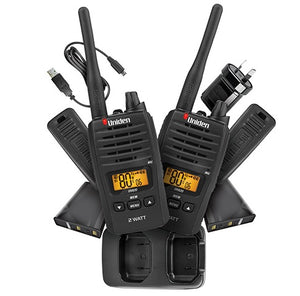 APPROXIMATE DISPATCH TIME FRAME IS BETWEEN 3 TO 10 BUSINESS DAYS.
UNIDEN UH820S-2 2W UHF TWIN PACK
The UH820-2 is an 80 Channel 2 Watt hand-held radio twin pack built for rugged Australian and New Zealand conditions making it ideal for Commercial Use, Hiking, Construction Sites and Restaurants. With the finest components, unique engineering and styling, the UH820-2 offers outstanding performance adaptable in various conditions and situations.
– 80 UHF Channels
– 2 Watt Maximum TX Output Power Hi/Lo
– Long Life 1600mAh Lithium-ion Battery
– Smart Key Allocation – Allows you to Toggle between the Instant Channel, Call Tone or Keypad Lock
– USB Charging
– Range: 13km
– Operating Time: 21 hrs
– Rapid Scan
– Range Extender (Duplex) Capability
– VOX Hands Free Capable
– Digital Coded Squelch (DCS)
– Interference Eliminator (CTCCS)
– Backlit Large LCD Display
– Auto Battery Save
– Open Scan
– Group Scan
– Battery Level Indicator
– Busy Channel Lockout Function
– Roger Beep
– Instant Channel Programming and Recall
– Keypad Lock
– Designed and Engineered in Japan
– Built for Rugged Australia and New Zealand Conditions
– 3 Year Warranty

Whats in the box
– 2 X UH820 UHF Radio
– 2 X 1,600mAh Lithium-Ion Rechargeable Battery
– 1 X USB Charge Cable
– 1 X AC Adaptor
– 2 X Belt Clip
https://audioxtra.com.au/wp-content/uploads/2018/11/UH820-IM-Web.pdf