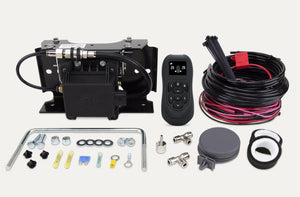 APPROXIMATE DISPATCH TIME FRAME IS BETWEEN 3 TO 10 BUSINESS DAYS.
POLYAIR WIRELESS COMPRESSOR KIT - DUAL PATH W/ BRACKET MOUNT (27006EZ)
Details
This is the all new 2nd generation WirelessAIR that gives you the on-the-go control at the push of a button. WirelessAIR puts the control in your hand - literally. Whether it's with the easy to read handheld controller or the free mobile app, you can inflate or deflate your system with one touch. The WirelessAIR operates on a dual path system, meaning both air springs canbe controlled to individual pressures. This is ideal for vehicles carrying uneven loads, where the WirelessAIR can level the vehicle left to right. The controller and app are both programmable with user-defined presets, so WirelessAIR can remember your frequently used pressures.
The redesigned WirelessAIR system is easier to install than ever, with a heavy-duty air compressor and a small manifold. There's no running air line inside the cab or fiddling with fuses, just simply a battery hook up. With common mechanics tools, the system installs in only a few hours.
The WirelessAIR is also more advanced than ever! You can now run the system via a free mobile app that you can download from Apple App Store or Google Play!
THIS KIT INCLUDES:
LCD Wireless Controller
Dual Path Manifold
Battery Direct
HD Compresser
Bracket Mount
ABOUT POLYAIR
Polyair Springs have been providing load levelling solutions to the Australasian region since the late 1950s. Starting as a 1 man operation, the product has gained popularity through its wide range of benefits, and value for money.
The airbag in coil concept originated with NASCAR in 1949. On the unrelenting banked circuits, weight distribution was found to be a key factor in optimising handling. The capabilities of the air bags was soon put to use on road going vehicles.
Through the 1950's the product gained popularity, and was developed even further. By the 1980s the product became a common site on motorhomes, ambulances, load bearing pick up trucks etc.
In Australia at the beginning of the 1980's a well established steering and suspension business recognised the significance of Polyair Springs. The directors bought the locally grown company, with the aim of developing the brand further.
Since then they have been a leading name in the air bag industry.
Sales growth has enabled Polyair Springs to keep pace with greater demand, developing products for the ever growing range of vehicles on the road.
All of their kits are developed on site by their R&D engineers, who have a keen understanding of the challenging industrial and recreational environments the products are subject to.